---
2021 exclusive electroic vibrating massage gloves for raynauds syndrome
 Model No

 JYT-DP16H

 Material

 Sliver Fiber Made in Korea

 Connector

 Snap 2.0/Custom

 Size

 Free size /custom

 Certificate
 RoHS CE

 Net Weight/pair

 42.9 g/pair 

 Packing Way

 1 pair/OPP bag,  500-1000 pairs/carton,

or as  the customer's request.

  

 Delivery Time

 7~35days after payment (Depends on the quantity of the order)
Conductive tens gloves Treats
     • Arthritis of the hand
     • Raynauds Syndrome
     • Repetitive Strain Injury
     • Carpal Tunnel Syndrome
     • General pain in the hand
     • Poor circulation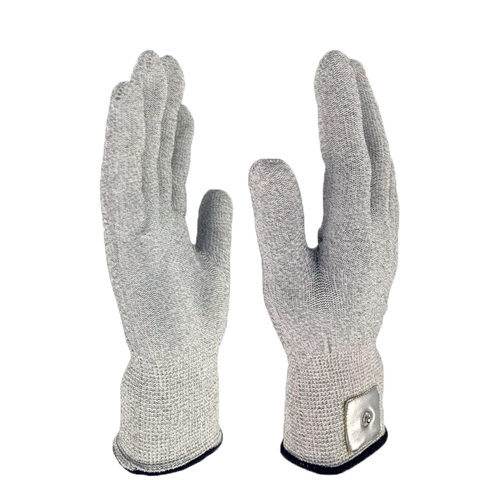 TENS conductive gloves / socks
Many Neurologists, Orthopedic Surgeons, Physicians and Physical Therapists recommend this Conductive Glove for their patients with a variety of Hand abnormalities, including: Carpal Tunnel Syndrome, RSD, Arthritis and Degenerative Joint Disease to name but a few. This is a simple drugless approach to pain treatment. Our universal sized conductive glove is used to treat the entire hand, which would be difficult to treat with individual self-adhesive electrodes. This device simply fits on as a Glove and connects with the Lead wires from your TENS Unit or other Electrotherapy Device. A Self Adhering Electrode is also attached to an area close to the Glove allowing for proper connection and soothing Electrotherapy Current to the affected Hand.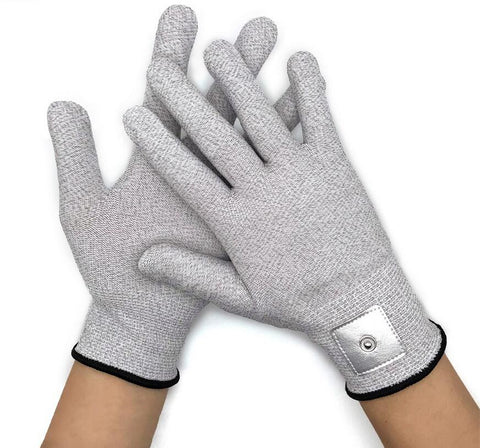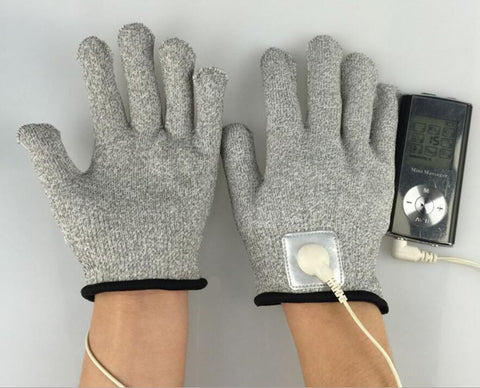 Description:
1.TENS conductive gloves made of all natural silver fiber which is the native element. it has excellent conductivity and conductive uniform.
2.The fiber can anti-odor,anti-static,anti-microbial .
3.It is thermodynamic and can take the heat of human body away rapidly .
4.The socks / gloves are used in medical health protection which can help stimulate circulation .


These conductive TENS gloves are sold as a pair and come in two different sizes, this listing is for size medium. They can be used in conjunction with a Tens machine to treat a variety of painful foot conditions as well as improve poor circulation. They can be used either individually (with a large Tens electrode pad) or both together. The gloves can be connected to your Tens unit with either a snap 4.0mm connection lead wire or a standard 2.0mm pin connection lead wire, as the stud on the gloves has an adaptor.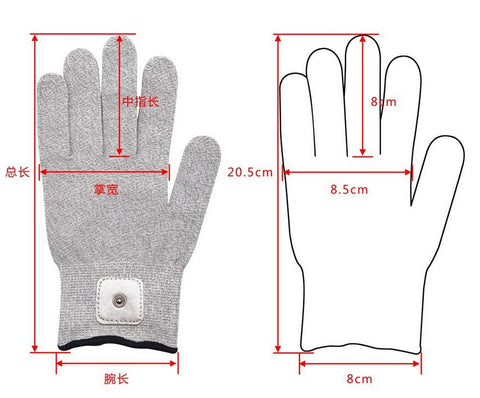 Indications
  • Symptomatic relief and management of chronic (long-term) intractable pain
  • Conductive garments will help existing TENS Unit users get the most effectiveness out of their device
  • Garments cover a large surface area of your body
  • Can be applied to hard to reach spots, Simple to use, comfortable, and light weight