---
JYTOP DDS BioElectric Massage Therapy Machine Acid Set of 4 Sponge (Positive and Negative Use) for use with Hebei Hualin Acid-Base DDS Bio Electric Massage Device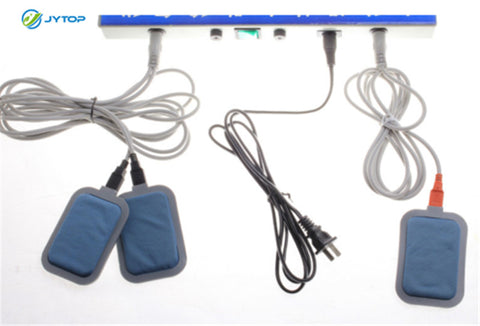 The electrode gloves and electrode socks used in combination with a device are ideal for home healthcare .They provide stimulation of the entire hand foot and ankle to increase blood flow. The electrode gloves and electrode socks are ideas for the healthcare pain ,sport injure, post-operative pain, sprains and other ailments.
This kind of gloves are made of all natural silver fiber which is the native element. They are thermodynamic and can take the heat of human body away rapidly. TENS electrodes gloves are designed to be used for electro-massage therapy and connected to TENS or EMS device through conductive snap wire. It is ideal for treating patients with Arthritic and RSD (Reflex Sympathetic Dystrophy) conditions within their hands.
A Features:
1) With good conductivity and low resistance
2) They can be connected with TENS and EMS machine
3) Made of all natural silver fiber which is anti-odor, anti-static and anti-microbial
4) They are used in medical health protection
5) Safe and reliable without irritation and other side effect
6) Use high quality imported silver fiber and use it with the controller to reach a special effect of skin-care
B Functions:
1) To promote partly blood circulation
2) To accelerate skin`s metabolism
3) To solve the skin problems of dim and stain
4) To firm body
5) To reduce swelling and pain management

Description:
APPLICATIONS: DDS Bioelectric Massage Therapy is easy to learn with no special licensing requirements, and there are no side effects or pain associated with DDS treatment.
    PROFESSIONALS: Massage Therapists, Physical Detox Specialists, Med Spas, Recovery Centers, Home & Family Care, Esthetics & Beauty Salons, Nutrition Health Coaches, Pain Management Clinics, Acupuncturists, Chiropractors, and Athletic Trainers Sports Medicine.
    QUALITY CERTIFICATION: All DDS Bioelectric Therapy Devices and Accessories are Quality Tested by the DDS Bio Therapy Center.
    BOX INCLUDES: Two DDS Bio Therapy Glove. DDS Bio Therapy Massage Oils, Muds and Therapy Creams need to be purchased separately and are available from the DDS Bio Therapy Center.
    NOTE: Not recommended for people who have a pacemaker, stents, thrombosis (blood clots in the arms or legs), a bacterial infection and who are pregnant.