---
JYtop 6th Generation Quantum Resonance Magnetic Analyzer, Quantum Magnetic Resonance Body Scanner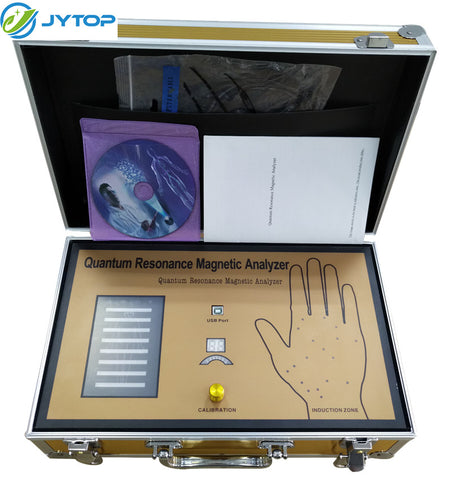 Specification:
1, Latest 6.3.1 version, faster test speed.
2, Reports: total 46 reports: 42 for male, 42 for female, Male and Female have 3 reports different
3, Compatibility with USB 2.0, USB 3.0
4, Infrared sensor detection, you don't need to touch the machine.
5, Add 2 new reports : Respiratory function & Human consciousness level analysis
6, Octa-core data processing chip, with higher accuracy
Function:
1. Cardiovascular and cerebrovascular tests
2. Gastrointestinal function test
3. Human consciousness detection
4. Vitamin test
5. liver and gallbladder function test
6. Skin detection
7. Blood lipids test
8. Meridian detection 
Advantages:
1, Professional
Based on the study on a hundred million clinical cases for many years, a number of medical and computer experts invented quantum health monitor.

2. Comprehensive
Our quantum health diagnostic instrument can make a comprehensive examination to human body. After the test, 16 health reports can be obtained.

3. Accurate
The statistical analysis of health is carried out rigorously by using scientific methods and it is approved by a large number of clinical practices. The accuracy rate of this healthcare product can reach up to 85%.

4. Ahead
Our therapy device can detect health changes before obvious symptoms and signs of disease appear. The early detection will make for early treatment.

5. Simple
The operation of this health equipment is quite easy. Users can master the detecting techniques after a short-term training.

6. Convenient
Through using this health instrument, health check can be made anytime and anywhere. This will save time for patients.

7. Economic
The cost of testing is quite reasonable, acceptable for average consumer.

8. Security
The health check is made in a non-invasive way, so the instrument will not harm human body.
46 reports quantum magnetic analysis machine 
For male : 42 reports      
For female: 42 reports
Male and Female have 3 reports different
Male : Prostate, Male sexual function, sperm and semen
Female: Gynecology, Breast, Menstrual cycle
So total=46 reports= 42+3+1 Comprehensive Report
 2 new reports : Respiratory function & Human consciousness level analysis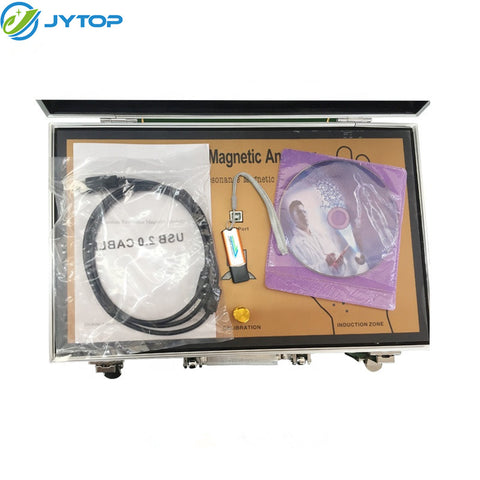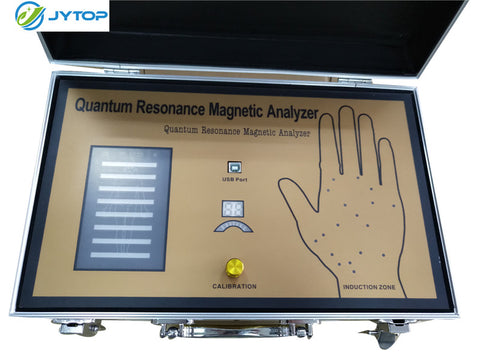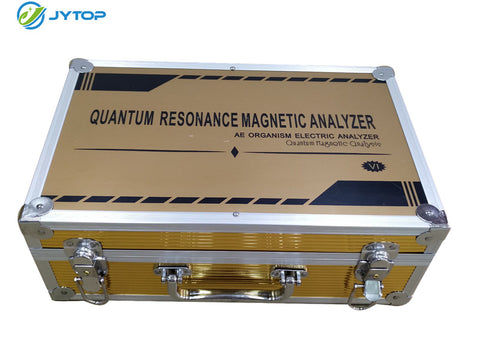 Major Features:
What is Quantum Resonance Magnetic Analyzer?
The Quantum Resonant Magnetic Analyzer is a Hi-tech innovation project, which is related to medical, bio-informatics, electronic engineering, etc.  It is based on quantum medical, and scientifically analyzes the human cell's weak magnetic field collected by advanced electronic device. The analyzer can work out the customer's health situation and main problem. According to the checking result, the analyzer can figure out the reasonable treatment recommendation. The quantum resonant magnetic analyzer is the individualized guide of comprehensive healthy consulting and updated healthy sciences, and its characteristics and advantages are comprehensive, non-invasive, practical, simple, quick, economical and easy to popularize. With the deep research and scientific development, the analyzer will make great contributions to human health project, and it has broad developing and applying prospect.
Quantum analyzer advantage:
1.Prediction without symptoms: With only 10 or so cells of pathological change, the analyzer can capture the change pathological changes of cells and predict the precursor of disease. By taking health-care actions at this moment, you will be enabled to effectively prevent the various chronic diseases.
2.Non-invasive and painless: The analysis will tell you the condition of your health without hemanalysis or radiography.
3.Speed and accuracy: Multiple indicators of your health can be obtained within minutes. This analysis method is designed to save your time and energy. The database of the analysis system has been established with scientific method, strict health statistic treatment and demonstration of a large number of clinical cases, leading thus to a high analysis accuracy.
4.Simple and convenient: It is easy in operation and in general, people will be able to analyze and interpret the result through short-term training. Health check can be performed in any place and at any time, saving the time of patients. The cost for analysis is adequate and can be accepted by most consumers.
How to Use Quantum resonance magnetic analyzer ?
1.Install software into your testing PC
2.Connecting the device with testing PC with USB cable, put the hand sensor on the device then put on USBkey into PC
3. Open the software, hold on hand senor then you can start doing test
4. The testing will end about 2 min later, then click the button of "save", the reports will save at your pointed place.
Who cannot use quantum analyzer?
- Handicap Person
- Those wearing pacemakers
- Under Long Term Medication
- Women having Menstrual
USE IN :
This instrument is an ideal promotion tool for beauty salon, SPA club, clinics, health examination center, health food/nutrition supplement /health care products shop, direct selling, massage center, etc. The operator can write out prescription based on testing reports. It's also suitable for family use.
 Related Products: