---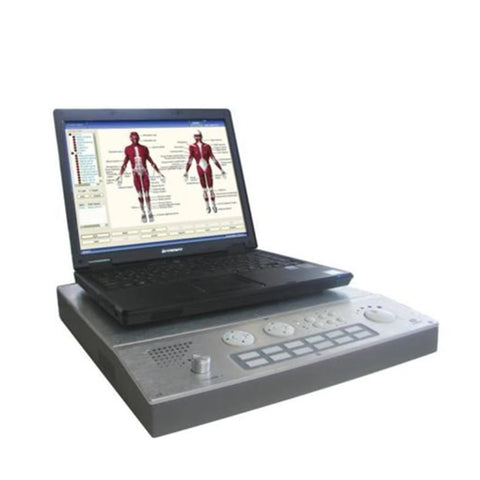 Introduction:
The equipment records bioelectricity activity of nerve muscle for determining its function state, which combines with nerve conduction speed, to give patient an auxiliary diagnosis.
Checking contents: EMG(electromygram), MCS(motor nerve conductor velocity), SCS(sensory nerve conductor velocity), F wave, Hreflex, RNS(repetitive nerve stimulation), Blink Reflex, VEP(visual evoked potential), BAEP(brainstem auditory evoked potential), SEP(somatosensory evoked potential), etc.
Features:
Professional EMG/EP operation platform and perfect test items, complete each test in the shortest time.
Neuro and muscle navigation system, convenient in selecting test part.
Powerful normal values system, contrast with normal data automatically.
Flexible software design, configure system parameters according to requirements.
High-speed data collection, electromagnetic interference suppression, Photoelectric isolation and low noise.
Integrative hardware system, compact in configuration and easy in moving.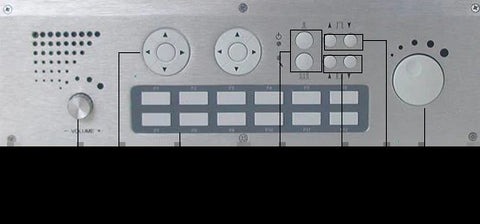 Performance:
Main system part 
A/D conversion resolution 16 Bit
Stimulating frequency 0.1-50Hz
Amplifier part
Four-channel 
Sensitivity 0.05μV-20mV/Grid
Earth noise EMG <= 4μV(Vpp)
EP <=0.1μV(Vpp) (1000 times in average)
Common-mode rejection ratio >= 100dB
50Hz Ban wave setting:
Upper limit for Filter-frequency 20kHz
Lower limit for Filter-frequency 1Hz
Gain amplifies 25 times-400000 times
Stimulator part
Constant current 0.2-100mA
Short circuit and overloading protection
Auditory Stimulator 
Stimulation wave 40Hz Short, Sound Stim
Stimulation polarity nondense wave, dense wave and alternant wave.
Sound strength 40-120db (5db per level) 
Stimulation mode left, right, left & right
Frequency of 40Hz carrier wave 500-8000Hz
Visual stimulator 
Mode tessellation, horizontal bar and vertical bar.
Stimulation view all-view, half-view and quarter-view
Resolution 3x4, 6x8, 12x16, 24x32, 48x64
Flash stimulator all quench,left light,right light,l&r light
Physical characteristic:
Dimension 420mm*350mm*46mm(L×W×H)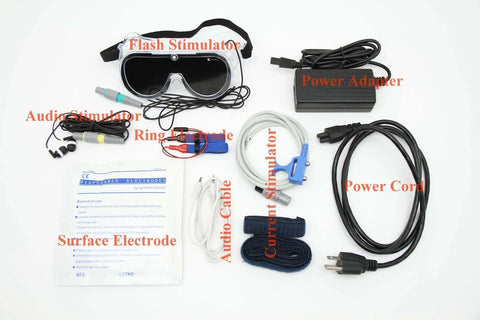 Accessories:
User Manual (GB only)on request for other Language
One-off Bipolar Needle Electrode D039035408, 0.35*40mm, D039060706, 0.60*70mm
Reuseable Bipolar Needle Electrode R039035408, 0.35*40mm, R039060706, 0.60*70mm
Concentric Needle Connecting Wire
 Ground Electrode(Include lead cable)
 One-off Unipolar Needle Electrode
 From 1 to 2 Conversion Cable
 Surface Electrode Conversion Cable