---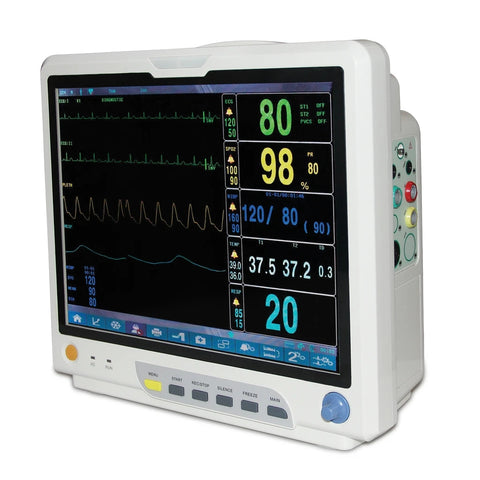 Features

    Elegant appearance, clear marks, standard interface, oxygen graph, trend graph, big characters, other BED observation, which are convenient for users.

    Standard parameters: ECG, RESP, NIBP, SpO2 and dual-channel TEMP. built-in printer  ,ETCO2   ,IBP,  are optional.

    Fifteen languages are optional, and all operations can be finished by keys and buttons.

    15'' color LCD displays patient parameter and waveform collected, and alarm, bed NO., clock, equipment state and other information provided by the monitor synchronously.

    Monitoring parameters, scan speed, volume and output contents can be set optionally.

    Storage of 480-hour trend data, and review of 34-second holographic waveform.

    Adopt digital SpO2 technology, strong in anti-interference and anti-weak filling capability.

    Calculation of drug concentration.

    Built-in rechargeable battery for uninterrupted monitoring.

    Print ECG, SpO2, RESP, BP and TEMP data with one-key.

    Anti-high frequency surgical unit, defibrillation-proof(requirement for special leads).

    Optional functions: Moving bracket, hanging bracket, VGA output and and 12-lead.

Specification
    Safety classification:
    Type of protection against electroshock: Class I
    Degree of protection against electroshock: type CF defibrillation-proof applied part
    Degree of protection against ingress of water: IPX0
    Environment requirement:
    Temperature:
      Working: 5~40(℃)
      Transport and storage: -40~+55(℃)
      
    Humidity
      Working: 30%~75%
      Transport and storage: ≤95%(no coagulation)
    Power supply
    Power supply: AC100~240V, 50/60 (Hz)
    Maximal input power: 150VA
    Battery
    Working time: 90 minutes
    Display
    Waveform: display 8-channel waveform in a screen
    Color: waveform and parameter color can be set
    Waveform and parameter selection: parameter and waveform need to be displayed can be selected, and waveform position also can be adjusted.
    Alarm
    Alarm items: technical alarm, 71 physiological alarms and 60 arrhythmia alarms.
    Prompt mode: visible, audible and character alarm (3 alarm levels)
    Trend review
    Time: trend review for 480-hour, review for 2400 groups of BP data
    Review mode: trend graph and trend table
    SD card review: trend review and review for 72-hour ECG waveform
    Network
    Network mode: wired, WIFI, 3G
    Connection contents: connect to central monitor system by LAN or WAN; View bed
    Updating mode
    Software updating: network updating and U disk updating

    ECG
    Lead mode: 3-lead or 5-lead
    Lead selection: I, II, III, aVR, aVF, aVL, V
    Gain: ×0.25, ×0.5, ×1, ×2
    Scan speed: 12.5mm/s, 25 mm/s, 50 mm/s
    HR:
      Measurement and alarm range
              Adult: 15~300bpm
              Pediatric and neonatal: 15~350bpm
      Accuracy: ±1% or ±1bpm, whichever is greater
    ST segment monitoring:
      Measurement and alarm range: -2.0mV~+2.0mV
      Accuracy: -0.8mv~+0.8mv ±0.04mv or ±10%, whichever is greater
    Other range: unspecified
    Arrhythmia analysis: 13-arrhythmia
    Volume: 0~7
    Pacemaker: yes
    RESPIRATION
    Method: R-F(RA-LL) Impedance
    Check range for respiration impedance: 0.3~5Ω
    Measurement and alarm range for RESP rate: 0~120rpm
    Accuracy: ±2 rpm
    Apnea alarm: 10~40s
    Scan speed: 6.25mm/s, 12.5mm/s, 25 mm/s
    NIBP
   Method: Oscillometry
    Measurement and alarm range:
      Adult
        Systolic: 40~270mmHg
        Diastolic: 10~215 mmHg
        Mean: 20~235 mmHg
      Pediatric
        Systolic: 40~200mmHg
        Diastolic: 10~150 mmHg
        Mean: 20~165 mmHg
      Neonate
        Systolic: 40~135 mmHg
        Diastolic: 10~100 mmHg
        Mean: 20~110 mmHg
    Inflation time: <30s(10~270 mmHg, standard adult cuff)
    Measurement time: <40s
    Measurement interval in AUTO mode: 1/2/3/4/5/10/15/30/60/90 minutes
    Accuracy for BP measurement: ±5mmHg, maximal standard deviation: 8mmHg
    Over-pressure Protection:
            Adult Mode: 297±3 mmHg
            Pediatric Mode: 240±3 mmHg
            Neonatal Mode: 147±3 mmHg
    TEMP
   Channel: dual-channel
    Measurement Range: 0 ~ 50℃
    Accuracy: 0.1℃
    Display resolution: 0.1℃
    Updating time: about 1s
    SpO2
    Measurement Range: 0 ~ 100 %
    Measurement accuracy :70%~100%: ±2%;
                                           0%~69%: unspecified
    Display resolution: 1%
    Upper and lower limit for alarm: 0~100%
    Measurement and alarm range for PR: 0~250bpm
    Measurement accuracy for PR: ±2bpm or ±2%, whichever is greater.
    Pulse modulation volume: yes
    Printer
    Waveform: 2-channel
    Print width: 48mm
    Paper speed: 25mm/s, 50mm/s
    EtCO2  
    Method: Sidestream or Mainstream
    Measurement Range for CO2: 0~150mmHg
    Resolution for CO2:
            0.1 mm Hg: 0 to 69 mm Hg
            0.25 mm Hg: 70 to 150 mm Hg
    Accuracy for CO2:
             0 – 40 mm Hg: ±2 mm Hg
            41 – 70 mm Hg :±5%
            71 – 100 mm Hg :±8%
            101 – 150 mm Hg :±10%
             Respiration Rate>80BPM: ±12%
    AwRR Range: 0~150 rpm
    Apnea Alarm: yes
    IBP
    Channel: dual-channel
    Label: ART, PA, CVP, RAP, LAP, ICP, P1, P2
    Measurement and Alarm Range: -10~300 mm Hg
    Resolution: 1 mm Hg
    Accuracy: ±2% or 1mm Hg, whichever is greater


Accessories

    User Manual (GB only)on request for other Language

    Adult fingertip SpO2 probe (5-pin)

    NIBP extension tube

    NIBP metal plugs

    Adult NIBP cuff

    ECG lead wire(American standard)

    ECG electrode

    Temperature probe

    Power cord