---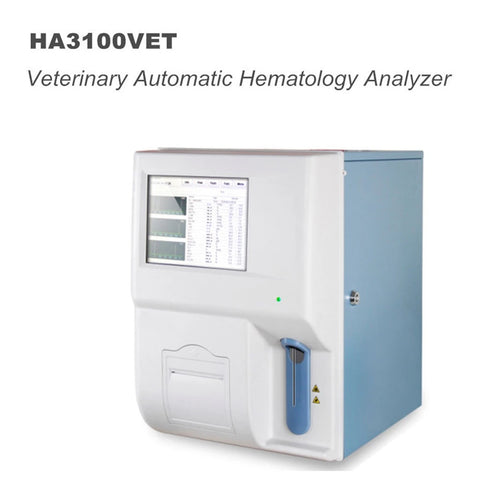 DESCRIPTION
HA3100VET is a stable hematology analyzer combined with reliable hardware and intuitive software,for sure it is designed to be as a easy operation diagnostic system with convenient data communication interface,excellent performance.Since it was released to the market,it has been helping our customers to ease their workload with an more economic as well as efficient way,look forward to your experience on it.
General Features
Throughput:60T/H
8-inch touch screen
20 parameters + 3 histograms
3 counting modes
30,000 sample results
Support LIS and external printer
Technical Specifications
Principle
Impedance for cell counting
Cyanide-free method for HGB
Parameters
WBC,Neu#,Lym#,Mid#,Neu%,Lym%,Mid%,RBC,HGB,HCT,MCV,MCH,MCHC,RDW-SD,RDW-CV,PLT,MPV,PDW,PCT,P-LCR
Histograms
WBC,RBC,PLT histogram
Language
English,Spanish,Italian,Portuguese,etc.
Calibration
Manual and Auto-calibration
Quality control
3 level QC,LJ graph
Sample volume
Venous mode:10 µL venous blood
Capillary mode:10 µL capillary blood
Prediluted mode:20 µL capillary blood
Display
8-inch color touch screen
Liquid Crystal Display(LCD)
Resolution:800×600
Storage
30,000 sample results with histograms
Reagent
Lyse(500 mL) and Diluent(20 L)
Printout
Thermal printer,support external printer
Temperature
15 ℃~35 ℃
Power
AC 100-240V,50/60±1Hz
Dimension
433(L)×300(W)×430(H) mm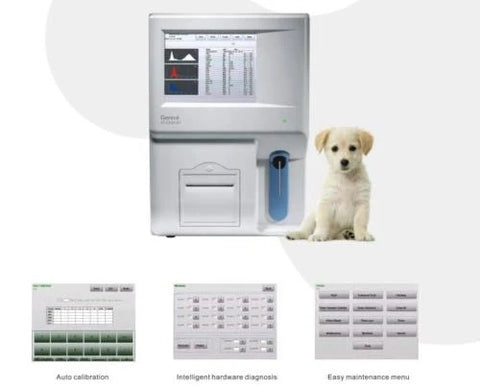 Species
Canine,Feline,Equine,Porcine,Bovine,Ovine,Simian,Murine,etc.
Performance
Precision
| | |
| --- | --- |
| Parameters | Precision(CV) |
| WBC | ≤ 2.0%  (7.0 - 15.0×109)/L |
| RBC | ≤ 1.9%  (3.5 - 6.0×1012)/L |
| HGB | ≤ 1.9%  (110.0 - 180.0g)/L |
| MCV | ≤ 0.4%  (80.0 - 110.0)fL |
| PLT | ≤ 4.0%  (100.0 - 500.0×109)/L |
Measurement range
| | |
| --- | --- |
| Parameters | Measurement range |
| WBC | (0-99.9×109)/L |
| RBC | (0-9.99×1012)/L |
| HGB | (0-300.0)g/L |
| PLT | (0-999×109)/L |