---
JYtop Quantum Magnetic Resonance Analyzer Sub-Health Body Monitor 41 Report 918-C
JYTOP Quantum Resonance Magnetic Analyzer
collect the weak magnetic field sensors of frequency and energy from human body through the hand grip sensor. Through the instrument magnifies and the computer processing ,compare with the disease set up inside the instrument install and standard quantum resonance spectrum, use the Fourier analysis method analysis if the sample wave pattern become chaotic.According to the results, make an analytic judgment for the person in state of health and primal problem, and put forward the standard advice for preventive treatment.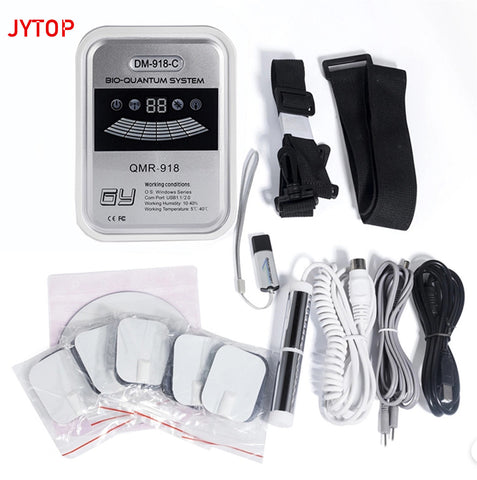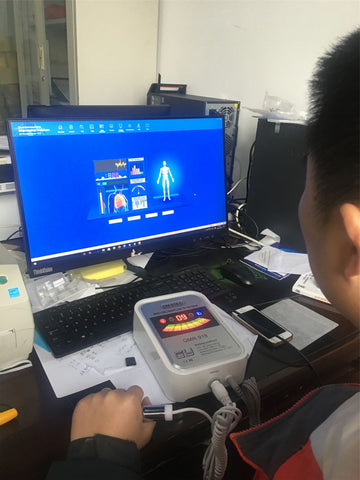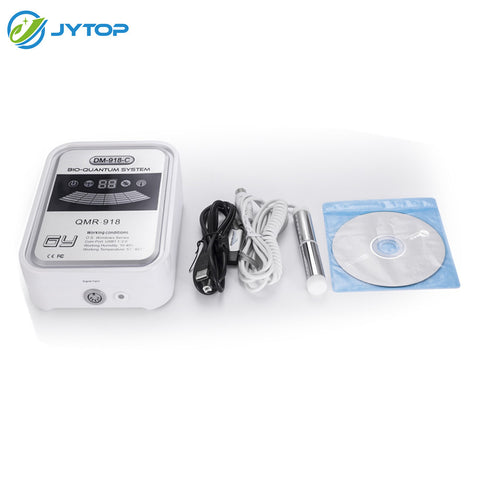 Custom Attributes:
Feature: Professional,Comprehensive,Accurate,
Ahead,Simple,Convenient,  Economic,Security
Effect:Quickly see a general report
Languages for choice:
English,German, Portuguese, Slovak ,Malaysia,
Spanish,Korean,French,Thai, English-Malaysia, 
Chinese-Malaysia, English-Chinese etc. 
We have the latest report from 41
The Quantum Health Analyzer Have 41 Reports

1 Cardiovascular and Cerebrovascular 

22 Heavy Metal 

2 Gastrointestinal Function 

23 Basic Physical Quality 

3 Liver Function 

24 Allergy 

4 Large Intestine Function

25 Obesity 

5 Gallbladder Function 

26 Skin 

6 Pancreatic Function

27 Eye

7 Kidney Function 

28 Collagen 

8 Lung Function 

29 Channels and collaterals 

9 Brain Nerve 

30 Pulse of heart and brain 

10 Bone Disease 

31 Blood lipids 

11 Bone Mineral Density 

32 Gynecology (female)

12 Rheumatoid Bone Disease 

33 Breast (female)

13 Bone Growth Index

34 Menstrual cycle (female)

14 Blood Sugar 

35 Prostate (male)

15 Trace Element 

36 Male Sexual Function (male)

16 Vitamin 

37 Sperm and semen (male)

17 Amino Acid 

38 Element of Human 

18 Coenzyme 

39 Comprehensive Report

19 Endocrine System 

40 Thyroid 

20 Immune System

41 ADHD (kids younger than 10 years old)

21 Human Toxin 
Operation ways on quantum resonance magnetic analyzer
1) install software in PC
2) connect all of lines, such as USB Drive to PC, USB Key (open the software use), 
the metal stick
3) open the software, meanwhile, hand the metal stick, and choose start testing. 
4) 1 minutes, it will auto-show the test result.
The most important thing :                            
Distinguish truth from falsehood
With our quantum genuine software development, some copy edition (crack edition ) also appear constantly. So improve our ability  to distinguish is very important.
 
The suggestion of quantum software Engineering Experts give us how to distinguish the genuine and crack as follows:
 
1. The crack edition, also called cloning edition, which some businesses decoding for security key and software of the original genuine software, then cloning or copy it.
 
2. The genuine software can adjust any parts to adapt all kinds new software and operating system for clients to upgrade, while the cloning one just only can adjust sample film of what their decoded , as interface graph, suggestion and so on..
 
3. The most of crack editions are incompatible with WIN7,what's more, those crack editions always carry with virus.
 
4. In order to sell with more lower price , the crack edition business have to reduce the cost of  hardware so that the quality is poor. The lift of crack editions' chips and accessories crack editions' is very shot.
 
5. Sale support, our genuine software factory can give your best service.
3rd generation quantum analyzer FAQ

Q1:What's the warranty of this ?
A1: One year warranty quantum resonance magnetic analyzer.
Q2:What if any quality problem during guarantee period?
A2: We can provide technical support after we get to know your problem, if there are any accessories need to replacement , we will send it to you for free or send together with your next order.

Q3: Can we print my Logo on the product? How much cost?
A3: Yes. we can OEM based on the 100PCS.The cost is depend on your design.

Q4:Can we get sample first before large order? How much cost?
A4:Sure, normally sample price is up 20% of 1000pcs price, but we will refund you after placing order.